Row over marriage guidance book for Turkish newly-weds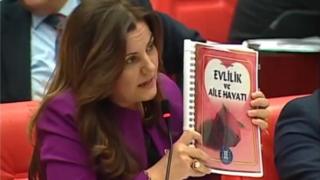 A book a Turkish city has handed out to newly-weds has united government and opposition in outrage at its controversial and sometimes bizarre recommendations.
Kutahya council in western Turkey issues the hefty 394-page "Marriage and Family Life" free of charge, but has run into a barrage of complaints. The leader of the main opposition CHP Republican People's Party in Kutahya, Zeliha Aksaz Sahbaz, told Turkey's NTV television channel that the book "depicts woman as second-class citizens and defines them as sexual slaves".
She and other critics point to such advice as a "wife must stay quiet and apologise if her husband is angry with her", and suggests polygamy as a way of "promoting competition" among women and sparing them the attentions of other men.
Local CHP member of parliament Fatma Kaplan Hurriyet raised the issue in a National Assembly family and social policy debate, telling MPs that the book appears to be a "cut-and-paste copy" of another book called "Marriage and Privacy" issued by Pamukkale city council, which she found in the parliamentary library.
She asked whether the mayors of these cities would face prosecution for distributing material that contravenes Turkish law, not least in advocating the beating of wives who "do not dress up at the request of her husband", NTV reports.
'Haunts of demons'
Some of the advice in "Marriage and Family Life" verges on the fantastic. It counsels against visits to the theatre and ballet as they are the "haunts of demons", and warns against talking during sex "as this can lead to the child developing a stutter", Hurriyet newspaper reports.
Kutahya and Pamukkale are both run by the governing Islamist AKP Justice and Development Party, but leading members agree that the book is inappropriate. Deputy Parliament Speaker Ayse Nur Bahcekapili said she was "certainly not comfortable with it" and offered to follow the matter up. Education Minister Ismet Yilmaz said "people can distribute books as they will", but dubbed this publication "primitive and un-scientific", according to Hurriyet newspaper.
The AKP has faced increasing criticism at home and abroad for years over its policy towards women. President Recep Tayyip Erdogan has spoken of developing a "Turkish-style" approach to women's rights "in the light of our history and cultural background", and only last month the government had to withdraw a bill that would have pardoned some men for assaulting underage girls if they went on to marry their victims, Hurriyet Daily News reported.
The mayor of Kutahya, Kamil Saracoglu, sees nothing wrong with the book. "We've been giving it to newly-weds since 2014, and have never received any complaints," he said. He told SonDakika.com website that the contents of the book may be open to debate, but are based on Koranic verses, the sayings of the Prophet Muhammad, and "scientific research".
Next story: Kyrgyz concerns about donkey exports to China
Use #NewsfromElsewhere to stay up-to-date with our reports via Twitter.