Kazakh newsreader quits after fake interview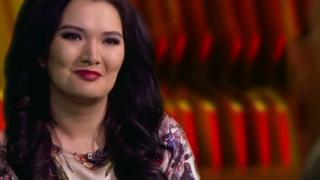 A newsreader on Kazakhstan's leading state-run TV channel has resigned following a row over a faked interview featuring one of his colleagues.
Ruslan Smykov of First Channel Eurasia tendered his resignation citing "differences with management" after the "interview" appeared on the channel late last week, the Eurasia.org news website reports. The programme in question used footage of Smykov's colleague Almira Shaukentayeva to make it look like she was being interviewed by top Russian journalist Vladimir Posner on his renowned discussion programme.
"What do you dislike most about yourself?" Posner asks in the faked clip of the footage which is made up almost entirely of small talk.
"Cowardice," Shaukentayeva replies, "the worst of evils".
'Absolute fake'
While the channel admitted after the broadcast that it had been set up as a joke, the fake interview caused indignation both in Kazakhstan and Russia, not least from Vladimir Posner himself.
Asked by the Kazday news website about the interview, Posner was blunt about its veracity. "This is an absolute fake from start to finish. The interview didn't happen," he said, going on to explain that interviewees on the Posner show - which features current newsmakers and leading personalities - are by invitation only, and Shaukentayeva, virtually unknown outside Kazakhstan, would never have made the shortlist.
Kazakhstan's Information Minister, Dauren Abayev, was similarly unimpressed, saying "I think it is a very unfortunate joke that first and foremost damages the reputation of the First Channel." The problem, he said, was that if viewers got used to fake news, they would be unable to tell the difference if a real news story appears, the Global Voices website reported.
Social media users, however, saw the funny side, launching a flotilla of memes onto Facebook mocking Shaukentayeva and Smykov for the joke that got out of hand.
"Why is Borat banned in the country when first Channel One Eurasia isn't? You're the ones doing a better job of bringing disgrace on us," one says.
Next story: Finns warned over sauna fires
Use #NewsfromElsewhere to stay up-to-date with our reports via Twitter.