New Zealand sets up sanctuary for tiny frogs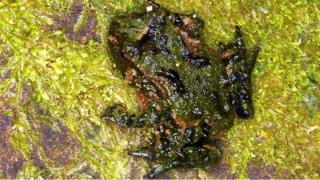 New Zealand has declared the natural habitat of a very rare frog to be a conservation sanctuary, giving the tiny creature a chance to recover its numbers.
The 400-hectare (990-acre) area of land is located near the town of Te Puke, in the Bay of Plenty region of North Island. It includes a former quarry, head waters and basin, and is home to about 200 Hochstetter's frogs. Carole Long of Forest & Bird, the country's leading conservation society, told Radio New Zealand that she was present when walkers came across the first frog of the local colony 24 years ago, and described the species as not only "very ancient" but also quite different to almost all other modern frogs.
"They split off from other frog species around the time of the dinosaurs. They don't croak, they have no external ears, and they give birth to tiny frogs, instead of tadpoles, and they carry them around on their backs," she said, adding that the Te Puke Hochstetter's population was "genetically unique" to the area. Forest & Bird says it has campaigned for 20 years to have the area declared a sanctuary, in the face of some landowner opposition.
Ms Long told News Talk ZB radio that the change in land status from "stewardship" to sanctuary gives the area protection from being developed. Hochstetter's frogs are found only in New Zealand, and each of the 19 local populations is distinct. They are all greeny-brown in colour, no more than 44 mm (1.7 inches) long, and can live to be 30 years old.The colony near Te Puke is on the country's "nationally-critical" list, which is just one step away from extinction, according to Forest & Bird's Central North Island Conservation Manager, Al Fleming. "We now have an opportunity to restore the frogs' habitat, protect them from predators and guarantee their future. These special animals have been around for a very long time," he says.
Next story: Belarus says Santa must pay tax
Use #NewsfromElsewhere to stay up-to-date with our reports via Twitter.