Russian sculptor creates giant manure cockerel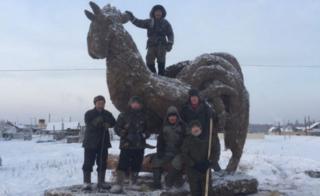 An artist in Russia's Far East has marked the new year by fashioning a giant rooster sculpture out of frozen manure.
Mikhail Bopposov completed the huge cockerel in Uolba, a village in the Sakha Republic (also known as Yakutia), despite being hampered by a leg injury which required surgery only a week earlier. It was a team effort involving his brothers that ensured the piece was ready to be unveiled on New Year's Eve to welcome 2017, the Year of the Rooster, the Sakha Life website reports.
Strictly speaking, he needn't have hurried - in the Chinese zodiac, the Year of the Rooster doesn't start until 28 January.
At 3.5m tall (11ft 6in) and more than 4m long, the statue is sturdy enough to stand on, thanks to the region's freezing winter conditions.
Dung art is something of a speciality for Mr Bopposov, a former state farm worker. His previous work has included sculpting horses, a dragon and a snake out of manure. Last year, he turned his hand to a monkey scene that he said symbolised evolution.
Many Russian social media users have ridiculed the sculpture, using it to poke fun at the country. "In Russia, active people who are willing to work are given every opportunity. Manure has been delivered to talented sculptors in Yakutia," says one tweet.
Others sarcastically remark that it symbolises "Russian greatness" - on the NTV news website a reader says it should be put in the Kremlin. And one Twitter user refers to some recently discovered Soviet-era comics which imagined how advanced life would be in 2017, contrasting them with the dung art: "Expectation and reality".
But a few people do appreciate Mr Bopposov's work. A reader on the Yakutia.info site says: "I looked at the cockerel and started to smile. Then read the comments and sighed - where does so much anger come from?"
Next story: China officials try to rein in 'bride price'
Use #NewsfromElsewhere to stay up-to-date with our reports via Twitter.