Russia region's 'no abortion day' to mark Bible story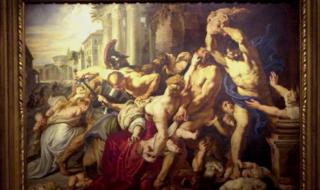 A Russian region has banned abortions for one day after local religious leaders called for the biblical account of the Massacre of the Innocents to be commemorated, it's reported.
The Russian Orthodox Church diocese in the city of Yaroslavl declared 11 January a "day of silence without abortions", and said it had the support of the region's health department. Abortion is legal in Russia and the cost is covered by the state.
"The event is dedicated to the memory of Bethlehem children slaughtered by King Herod, who wanted to kill the newborn infant Christ," a statement on the diocese's website reads. "On this day it is forbidden to carry out abortions in all state medical institutions in Yaroslavl Region," it says, adding that state officials and the Church want private clinics to follow suit.
There's been no official announcement from Yaroslavl health department, but a local hospital told the Mediazona website that it had received a letter from state officials confirming the ban.
The news became a big talking point online, where many social media users are baffled by the Church's influence. "Why is the Church intervening in the lives of secular society?" asks one Twitter user, while another thinks it would a make "a good court case - why a service guaranteed by compulsory medical insurance is not being provided". But for one Facebook user it reflects of a broader shift: "We are increasingly sliding back toward the Middle Ages."
In September, the head of Russia's Orthodox Church signed an appeal for a nationwide ban on abortions, sparking a fierce public debate. Patriarch Kirill later acknowledged that a total ban would be impossible, but said it would be viable to exclude abortion from state health insurance coverage.
Next story: State's last-minute purchase of Iceland glacial lagoon
Use #NewsfromElsewhere to stay up-to-date with our reports via Twitter.