Russians mock 'Uber-like' funeral app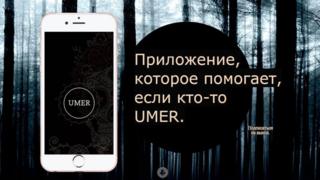 A newly-unveiled smartphone app that allows people to organise funerals on the go has prompted scepticism and even ridicule in Russia.
Its developers say the app - to be launched in two months' time - is designed to make it easier for grief-stricken relatives unfamiliar with the process to arrange the funerals of their nearest and dearest, the Lenta.ru website reports. It is modelled on the ride-sharing service Uber, and is even called "Umer" - which is the Russian for "he's dead".
According to the app's website, users will simply be able to type in the deceased's name, date of death, religion and address. They will then receive options and prices for different cemeteries and funeral directors, a choice between cremation or burial, and options for various gravestones.
The customer is then put in contact with an operator, who arranges the details. "It's easy. Easier than dealing with some random undertaker," says the app's website proudly. It also offers advice on the paperwork needed after a death.
But Russians appear unimpressed by the idea. Some think it's unlikely to take off because of low levels of internet use in Russia. Others object for reasons of taste. Despite liking the concept, one Facebook user says the punning name is "utterly inappropriate".
There's also plenty of ridicule for the whole idea. "I wonder if there will be any discounts for return customers," quips one person, while another jokes: "Bring a friend and get a 15% discount."
Next story: Austria village churches hire bouncers to block tourists
Use #NewsfromElsewhere to stay up-to-date with our reports via Twitter.