China city bans second-time wedding banquets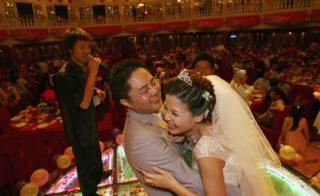 A city in south-western China is banning wedding banquets for people marrying for a second time, in an attempt to curb public extravagance.
The authorities in Kaili, Guizhou province, have issued rules saying that only funerals and first-time weddings can be celebrated with banquets. They have also banned multiple feasts, and the use of different locations for one marriage ceremony, the Guizhou Evening Post reports.
The bride and groom must now register their intention to hold a banquet with their local government office, to ensure neither have been married before. Council officials cannot sanction a wedding bash without first filing the details with the relevant department, and must also give an account of spending on funeral banquets within ten days, including itemised bills for wine.
The ruling Communist Party launched a nationwide campaign against corruption, bureaucracy and ostentatious displays of wealth back in 2012, and the authorities in some regions have recently begun to rein in lavish marriage practices. As is usual in China, the rules are being rolled out on a trial basis to give the impression of public consultation, but are likely to be confirmed.
The latest ban has sparked a lively debate on China's popular Weibo micro-blogging site. Many people approve of the restrictions because of the wealth gap between prosperous cities like Kaili and rural areas of Guizhou, although some feel it should only apply to officials, who are most often seen as the beneficiaries of corruption. But some users find it "baffling" that people getting married a second time round can't mark it in style, and one complains that the council will "next rule on how many times a week a couple can make love".
Next story: Italy pizzeria hands out free pizzas to traffic jam
Use #NewsfromElsewhere to stay up-to-date with our reports via Twitter.