New Zealand imports insects to fight plant invader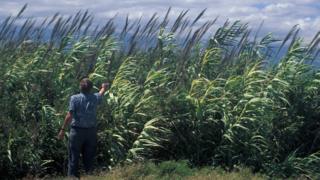 New Zealand appears to be taking a calculated risk with its otherwise strict environmental policy by using foreign species to fight an invasive and destructive plant.
The country is well known for its strategy of protecting its wildlife and flora from species introduced from abroad, but the Environmental Protection Agency (EPA) is to relax these rules to combat the reed Arundo donax, otherwise known as elephant grass or giant reed, New Zealand Herald reports. The government agency has approved a scheme where two species of insect from the Mediterranean will be introduced to New Zealand's northernmost Northlands region where the reed, which can grow up to 8m (26ft) tall, is displacing native plants and causing flooding.
According to an EPA press release, the arundo galling wasp and the arundo scale insect will be introduced to giant reed beds in the area, where they'll munch through the plants, causing them fatal damage. The insects have been highly successful fighting the reed in the Americas and the Canary Islands, EPA scientist Dr Clark Ehlers says.
The calculated risk is that the insects won't go on to hybridise with native species, nor take root in New Zealand. It's "highly improbable that the arundo galling wasp or arundo scale insect would form undesirable self-sustaining populations," Dr Ehlers said. "Neither would be likely to cause adverse effects in the New Zealand environment."
Invasive species have repeatedly brought disaster to New Zealand's eco-system. The kiwi, New Zealand's national bird, is still declining in numbers largely due to predators, and it's now government policy to eradicate all non-native predators by the year 2050. They hope to achieve this through strict import controls, as well as an extermination plan against stoats, rats and possums.
Next story: Japan city apologises for offensive jackets
Use #NewsfromElsewhere to stay up-to-date with our reports via Twitter.