Last-ditch effort to save rare Australian parrot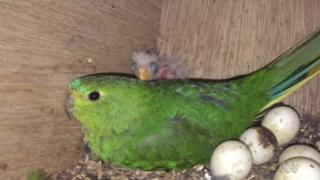 Conservationists trying to save one of Australia's rarest birds say that hopes of boosting the wild population currently rest on the survival of a single chick.
The tiny orange-bellied parrot chick was the only survivor from a group of five that were flown across the island state of Tasmania to be reared by foster mothers in the wild, ABC reports. The emergency intervention was prompted by a worrying fall in the number of parrots returning from their migration last year - only four females were among the 17 birds that arrived at breeding sites in Melaleuca, in Tasmania's south-west.
"With only four wild birds available to breed there's no way orange-bellied parrots can recover without intensive intervention," says Dr Dejan Stojanovic from Australian National University, who is co-leading the trial. Strengthening numbers in the wild is critical because those bred in captivity and released as adults have a low survival rate.
"Thankfully we've had a foster nestling survive for a week after being moved, which is a huge milestone, but it's also so fragile that anything could still happen," Dr Stojanovic tells ABC. He says the chick is being monitored closely, and at the last check was "all snuggled up to mum and looked great - with a full belly".
The orange-bellied parrots' dwindling numbers are in part due to habitat loss on the mainland, where they spend the winter. A captive breeding programme has been in place since 1986, and the current chick-fostering trial was supported by public donations of more than 140,000 Australian dollars (US$106,000; £85,000).
Bottom image used under Creative Commons licence.
Next story: Calls for Swiss army to accept overweight recruits
Use #NewsfromElsewhere to stay up-to-date with our reports via Twitter.