Smartphone app targets fake 'made in Italy' labels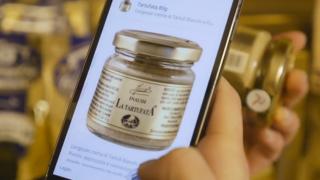 A new smartphone app is trying to help consumers distinguish between products that are genuinely "made in Italy" and those that may be fraudulently using the label.
Created by non-profit organisation Reliabitaly, the app uses bar codes to determine whether a product has been verified by them as being of Italian origin, La Repubblica reports. When users scan the item they also get more information about its production methods, including photos, videos and technical details.
It's an attempt to combat a massive problem facing the country's food and drink industry: products passed off as Italian when they're actually cheaper imitations from elsewhere. One of the biggest such cases occurred in 2011, when the authorities uncovered vast olive oil fraud involving major producers.
Reliabitaly says the app will also help consumers to spot products that are simply "Italian sounding" - items that may appear to be from Italy at first glance but are actually made in far-off lands. And it's not only for food and drink, as fashion and design products can be checked using the app, too.
The organisation admits that some genuine Italian goods may not be in its database of certified products, as it's a voluntary process for manufacturers. But it adds that those with nothing to hide should have no reason to avoid signing up.
Next story: New Zealand rodeo turns to men dressed as sheep
Use #NewsfromElsewhere to stay up-to-date with our reports via Twitter.