Kiribati mulls proposal to 'restore Russian monarchy'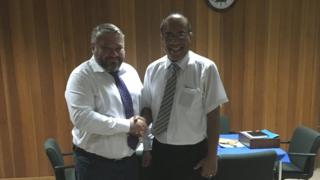 The government of Kiribati is considering a proposal from a businessman who wants to revive the Russian monarchy on the Pacific state's territory.
Anton Bakov, a former Russian MP who heads the Monarchist Party, wants to use three of Kiribati's currently uninhabited islands to build hotels and establish an "alternative Russia", Radio New Zealand reports. Mr Bakov says he'll plough $350m (£280m) into the project, and his wife told the radio that the idea is supported by "a great number of Russian patriots who are not happy with Putin's regime".
Russia's monarchy was overthrown in 1917 with the Bolshevik Revolution, but Mr Bakov has in recent years devoted himself to restoring it. In 2011 he created the "Imperial Throne" - an unrecognised micro-nation with no territory - with a leader referred to as Emperor Nicholas III.
Last week, a Kiribati government official said the proposal was still under consideration by the Foreign Investment Commission. Since then it's garnered the qualified support of former Kiribati President Teburoro Tito, who thinks it could be a money-spinner for the tourism industry, "assuming the things they're saying are true".
But some academics are urging caution. Dr Sitiveni Halapua, a Pacific development specialist, tells Radio New Zealand that he understands Kiribati is seeking investment to combat the effects of climate change, but he finds the proposal "very strange" and "scary".
Mr Bakov has previously tried to find land for his "alternative Russia" project elsewhere, and in 2011 he was reported to have bought an island from the Cook Islands, something swiftly rubbished by the country's government.
Photo used under Creative Commons licence.
Next story: Swiss village creates temporary currency
Use #NewsfromElsewhere to stay up-to-date with our reports via Twitter.