'Nazi German death camps' billboard to make 1,000-mile trip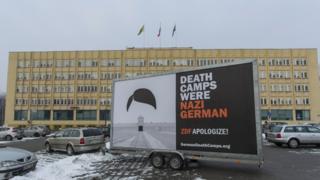 A billboard is being towed from Poland to the UK in protest at media reports referring to World War Two concentration camps as Polish, rather than the work of Nazi Germany.
The billboard will travel from the city of Wroclaw, through Germany and Belgium, before ending its 1,000-mile (1,600km) journey in Cambridge, Polish Radio reports. The 6m-long (19ft) sign features a pale grey photo of Auschwitz-Birkenau's infamous rail entrance, but with two stark black shapes superimposed on top - a depiction of Adolf Hitler's hair and moustache.
It's emblazoned with the words: "Death camps were Nazi German - ZDF apologise!" In December, a Polish court ruled that German broadcaster ZDF must apologise to an Auschwitz survivor for referring to "Polish death camps" in promotional material for a documentary. There is an ongoing row over whether ZDF adequately complied with the ruling. The billboard is due to stop outside the broadcaster's headquarters in Mainz.
The billboard is the work of a Polish NGO, the Foundation for the Traditions of Town and Country. "The idea of our campaign is simple," says member Dawid Hallmann. "We demand the historical truth, we oppose the use of the term 'Polish concentration camps', which is commonly used by Western media."
Poland's government has long complained about language implying Polish responsibility for atrocities committed while the country was occupied by Nazi Germany. In recent years, some organisations have tried to tackle the problem with technology, from a tool that scours websites for phrases such as "Polish SS", to an app that acts like a spellchecker to suggest alternative descriptions.
Next story: German bakery's Trump slices divide opinion
Use #NewsfromElsewhere to stay up-to-date with our reports via Twitter.