Belarus town accepts recycling as utility bill payment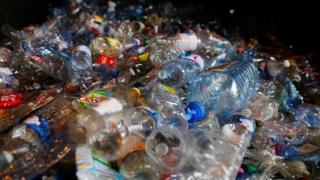 A council in south-eastern Belarus has come up with a novel way to help cash-strapped locals pay their water and gas bills - by handing in recyclable waste.
The authorities in the town of Rahachow have put up fliers in the entrances to blocks of flats to let people know that they will accept paper, plastic and glass in return for basic utilities like water and gas, the Rogachev Online news site reports. It says there is a growing issue with people not being able to pay their bills in the town. Some social media users have welcomed the help this could provide, with readers in Russia even suggesting they could adopt it too.
But many local people are sceptical, in particular about the failure to specify the amount of recycling needed to pay their bills. Some even think it's a scam to gather glass and plastic then sell it on at inflated prices, Rogachev Online says. Although the site itself "welcomes the council's creative approach", it does wonder tongue-in-cheek what banks will do if people turn up to pay bills with empty bottles.
The area's water quality and supply have been poor for many years, and what comes out of the taps is sometimes so discoloured that it is unfit for washing, let alone drinking.
The council has promised to install a new filtering system this year to solve the problem, but not everyone is sure it will change anything. Rahachow's populous Third District still has problems with water and heating, even though the system was overhauled there a few years ago, the site says.
Next story: 'Nazi German death camps' billboard to make 1,000-mile trip
Use #NewsfromElsewhere to stay up-to-date with our reports via Twitter.