Hiroshima app shows tourists pre-bomb sights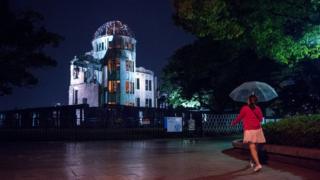 A new app will show tourists in Hiroshima how the city looked before it was devastated by an atomic bomb during World War Two.
The app will take users on "peace trail" to some of the city's landmarks, revealing what stood at each site before and after the US dropped the "Little Boy" bomb in 1945, The Mainichi newspaper reports. It's due to be available by 6 August, when Hiroshima will mark the 72nd anniversary of the bombing.
The municipal government is investing 9.5m yen ($85,000; £68,000) to develop the app and improve wifi along the route as part of its "peace tourism" drive, the report says. An official tells the paper that the city government wants people to "deeply learn the realities of the damage caused by the atomic bombing", and it's keen to encourage tourists to stay longer than the day trip that many make.
The city of Nagasaki, bombed three days after Hiroshima, is also using technology to educate people about the devastation wrought by the atomic bomb. Last year, a virtual reality project allowed primary school children to experience what the city was like in the aftermath of the "Fat Man" device exploding over the city, complete with the sounds of stepping on rubble and wind blowing through the ruins.
Next story: Police tell Namibians: 'Don't drink and walk'
Use #NewsfromElsewhere to stay up-to-date with our reports via Twitter.