Italian town commissions marble Donald Trump statue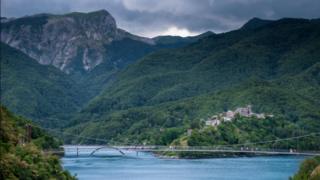 US President Donald Trump has been in the job for less than three weeks but a small town in Italy has decided that he already merits a statue.
The sculpture will be erected in the Tuscan municipality of Vagli di Sotto - population 1,000 - within a local attraction called the Park of Honour and Dishonour, Il Fatto Quotidiano reports. Mayor Mario Puglia says work is already under way on the marble figure, and that private donors in both Italy and America have offered 100,000 euros ($105,000; £85,000) to finance it.
"Initially the work will be put in the centre of the park: it's for history to decide whether Trump merits honour or dishonour," he tells the paper, adding that he isn't interested in discussing the rights or wrongs of the president's policies. "He is keeping his campaign promises, and that's important. He was democratically elected, he has the full right to govern."
Mr Puglia is hoping that it could increase the number of tourists venturing to Vagli di Sotto - although he tells The Local that he doubts President Trump himself will make the trip, "because of everything he has to do".
Mr Trump's marble likeness will join an eclectic array of statues already in the park, including a sculpture of a French police dog killed in a raid after the Paris terror attacks, and two relating to the 2012 Costa Concordia cruise ship disaster. The ship's fleeing captain, Francesco Schettino, is depicted with rabbit ears on one statue, while another honours coastguard Captain Gregorio De Falco, who famously told him to get back on board the stricken vessel.
Next story: Siberian resort builds 'ice library of dreams'
Use #NewsfromElsewhere to stay up-to-date with our reports via Twitter.