Siberian resort builds 'ice library of dreams'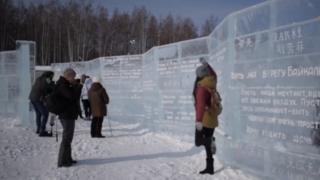 The hopes and dreams of 1,000 people have been carved into massive blocks of ice for a new tourist attraction near the shore of Russia's Lake Baikal, in Siberia.
"Last year we announced we would create the Ice Library of Wonders, and asked people to send us their dreams and wishes," local tourism chief and ice librarian Maxim Khvostishkov told Komsomolskaya Pravda newspaper. The first 1,000 suggestions have been etched onto the huge ice blocks, which have been arranged to form a translucent labyrinth that visitors can wander through and browse.
Ideas have poured in from all over Russia and beyond. Mr Khvostishkov listed a Chinese wish to climb Everest, a French entry hoping to fall in love and a Canadian dream of winning the lottery, but added that "most people wanted health for their family, to bear children, and a world without war".
The ice library covers 800 sq m (8,600 sq ft) at the Gora Sobolinaya, or Sable Mountain, skiing resort near the town of Baikalsk, and is part of a campaign to put the area on the international tourism map. Lake Baikal, the deepest in the world, has a unique eco-system and is a Unesco World Heritage Site.
Some local people came in person to see their hopes inscribed on the library's ice "pages" - one woman told the paper she was pleased that her wish to visit the Lord of the Rings film locations in New Zealand had made it.
It's not too late to send in a wish, as the local tourism association site is accepting submissions until the end of February. But the library will not last forever, as Komsomolskaya Pravda notes: "When the warm weather comes in April, the dreams of people from all over the world will melt away with the spring streams and flow into Lake Baikal."
Next story: Hiroshima app shows pre-bomb sights
Use #NewsfromElsewhere to stay up-to-date with our reports via Twitter.