South Korean police in terrorism poster gaffe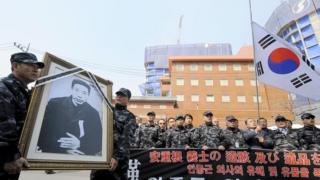 A police force in South Korea has faced criticism after using the iconic handprint of a Korean independence fighter on posters warning about terrorism, it's reported.
The posters were put up in a shopping centre in the Bupyeong district of Incheon, a city just west of Seoul. They feature two hands with the words "Stop! Terrorism" underneath, followed by a plea for people to remain vigilant, the Korea Times reports. But the handprint used is that of Ahn Jung-geun, a Korean nationalist who in 1909 assassinated prominent Japanese statesman Hirobumi Ito, the former resident governor of Japanese-run Korea.
Ahn is reviled in Japan and a government spokesman branded him a "terrorist" in 2014. But he's celebrated as a hero in South Korea, where his distinctive handprint - with half of the ring finger missing - has become a patriotic symbol, the paper notes.
The poster prompted online criticism after it was shared on social networks, with some people asking if it was meant to imply that Ahn was a terrorist, Chosun.com reports. But it seems that whole thing was simply the result of an image search gone awry. "We had no intention of bringing disgrace on Ahn Jung-geun," an officer is quoted as saying in the Korea Times. "It was a mistake made while looking for a hand image that signifies stop." The paper notes that all the posters have now been removed.
Next story: Film blocked over lack of Morgan Freeman
Use #NewsfromElsewhere to stay up-to-date with our reports via Twitter.