Billion-dollar bear aids Japan quake zone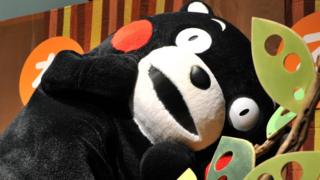 A chubby black bear is helping reconstruction efforts in an earthquake-affected region of Japan by earning a record amount through the sales of associated products.
Items featuring Kumamon, the red-cheeked mascot of southern Kumamoto Prefecture, pulled in 128bn yen ($1.1bn; £900m) in 2016, a 27% increase on the previous year, The Asahi Shimbun newspaper reports.
Two deadly earthquakes struck the area last April, causing widespread damage. Many products aimed at raising funds for the reconstruction are Kumamon-related, aided by a government decision last year to loosen the rules on using the bear's image.
Announcing the figures, Governor Ikuo Kabashima described the cuddly bear as the "chief flag-bearer" in efforts to rebuild the region. "Kumamon is driving reconstruction. We will proceed together to achieve recovery," he told a press conference. The bear isn't only influential in the region, and has been used nationwide to persuade consumers to buy things grown and made in Kumamoto, Kyodo news service notes.
Regional mascots are common in Japan, are often used to attract tourists, and even appear in unlikely locations such as drain covers. Kumamon has always been a successful money-spinner, but the bear's earning power has soared in the past five years. The Asahi Shimbun says sales of Kumamon products earned 2.5bn yen in 2011, but by 2014 that figure stood at more than 64bn yen.
Next story: Australia micronation 'prince' abdicates
Use #NewsfromElsewhere to stay up-to-date with our reports via Twitter.