Moldova art exhibit illustrates $1bn banking fraud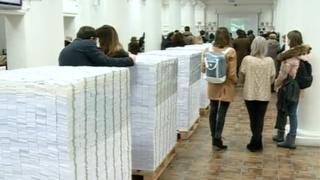 An artist in Moldova has created a mock-up of $1bn (£800m) in banknotes to highlight the amount lost in the country's biggest banking scandal.
The 10 huge piles of fake $100 bills are on display at a library in the capital, Chisinau, each weighing a hefty 500kg (78.7 stone), the Pro TV news website reports.
They represent the $1bn that disappeared from three banks in 2014, equivalent to an eighth of the ex-Soviet republic's entire GDP. The money was transferred to shell companies abroad, a fraud that prompted months of anti-government protests in Europe's poorest country.
The exhibition is the work of artist Stefan Esanu who says he wanted to help people visualise how much money was stolen. "People have no idea what a billion means. It is like saying 'cosmos' but people cannot imagine what this really means," he tells the Report news website. The exhibition also includes interviews with 33 Moldovans on their impressions of the scandal.
Visitors to the library were struck by the size of the cash "mountains", each measuring 1.4m (4ft 7in) in height. "Can you imagine what a colossal sum of money has been stolen and how many things could have been done using it?" one man tells Pro TV. Another says he would like to see politicians visit the exhibition, "but they're not interested".
Local media often refer to the debt as weighing on the shoulders of Moldovans, as the government had to agree to take it on as part of negotiations with the International Monetary Fund (IMF).
Former Prime Minister Vlad Filat was sentenced to nine years in prison for abuse of power in connection with the case in 2016 - he has always denied any involvement and says the charges were politically motivated. Dozens of other officials, including bank managers, are still under investigation.
Next story: Belarus sports writer eats his words after lost bet
Use #NewsfromElsewhere to stay up-to-date with our reports via Twitter.