Moscow to demolish 8,000 Soviet-era housing blocks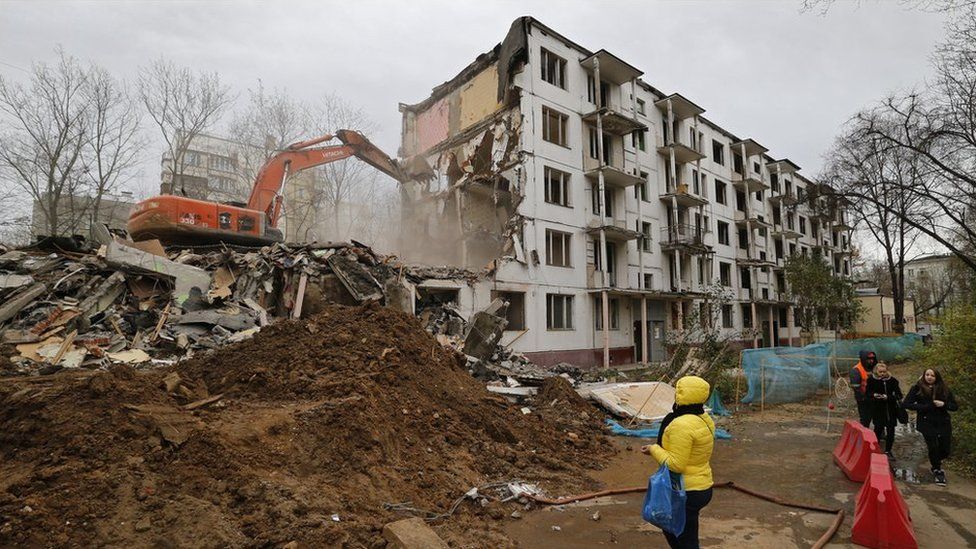 Moscow city authorities are to tear down about 8,000 blocks of flats built in the 1950s and 1960s in a major clearance programme that will involve rehousing 1.6 million people in the coming years, it's reported.
Mayor Sergei Sobyanin told a council meeting on Wednesday that the decision follows a positive review of an earlier, more modest demolition of about 1,700 of the low-rise prefabricated buildings known throughout the former Soviet states as "Khrushchyovkas", Komsomolskaya Pravda newspaper reports.
They were named after the then Communist leader Nikita Khrushchev, who had millions of the brick or concrete blocks built across the Soviet Union to help overcome the crippling housing shortages of the Stalin era. But buildings designed to last no more than 25 years - a period in which Khrushchev thought full Communism could be achieved - are now showing their age.
"Many people in Moscow are still living uncomfortably in ancient housing, to put it mildly," Mr Sobyanin told his colleagues, acknowledging a problem that has troubled councillors, the press and residents for years. He said the buildings are in such a state that demolition makes more sense than any attempt to repair them.
The project will require serious money and changes to federal planning law, but President Vladimir Putin backed the plan at a meeting with the mayor on Tuesday. It isn't clear how long the overall process will take.
The mayor has ordered the city authorities to propose construction sites for new housing within a month, and will chair the committee overseeing the building designs himself. Komsomolskaya Pravda says Muscovites are now awaiting news of which blocks will be the first to go.
Use #NewsfromElsewhere to stay up-to-date with our reports via Twitter.