Grey 'blob' takes seat in Ukraine parliament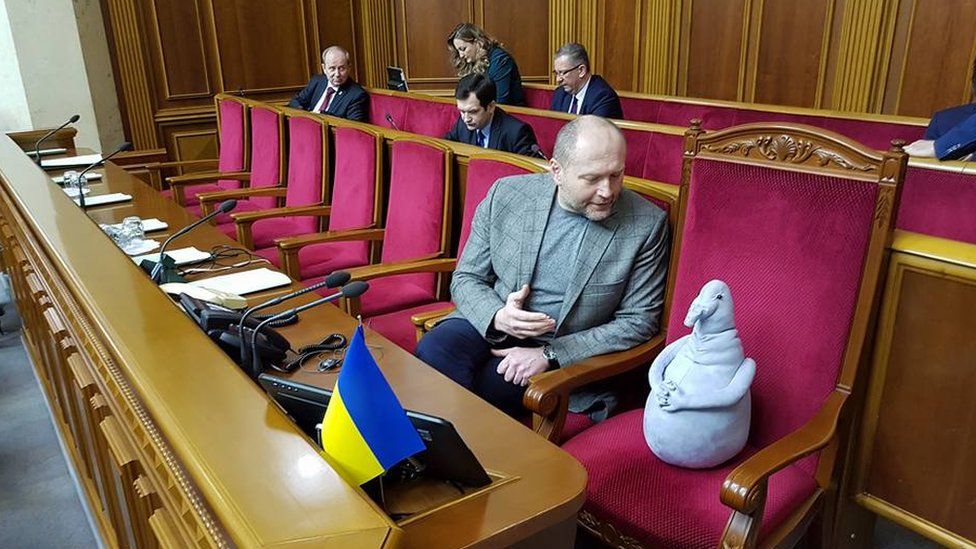 A Ukrainian MP has brought a stuffed toy into parliament in a stunt intended to shame colleagues who don't show up for work.
Independent MP Borislav Bereza arrived with the grey blob-shaped toy on Friday morning and propped it up on a vacant seat. It's a mini copy of the sculpture Homunculus Loxodontus by Dutch artist Margriet van Breevoort, which symbolises the experience of patients waiting to see a doctor. The sculpture became an internet meme in Russia and Ukraine, where it's referred to as Pochekun, meaning "the one who waits".
Mr Bereza says in a Facebook post that while 322 MPs were registered as being in the chamber for a plenary session, no more than 150 of them were physically present. "But Pochekun is here in the hall," he writes. "Like a majority of Ukrainians, he is waiting for MPs to start attending and working. He does not lack time or patience. Unlike Ukraine."
The toy also took a turn behind the podium, prompting other MPs to snap photos.
Ukrainians commenting online are divided over the stunt. "It seems to be funny, but it is rather sad," says one Facebook user, while another thinks it's "disgusting" given the conflict in Donbass and an economy "in intensive care". One wonders what Pochekun is made of, and receives the response: "Made of our hopes and dreams".
Ukraine's parliament has long had a reputation for MPs getting colleagues to vote on their behalf using their personal electronic voting cards - so-called "piano voting". It's also notorious for the unruly behaviour of representatives, with numerous instances of MPs coming to blows.
Use #NewsfromElsewhere to stay up-to-date with our reports via Twitter.