Russian 'flower rentals' for International Women's Day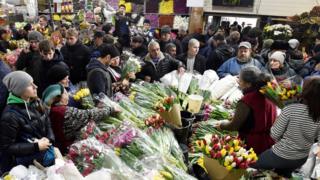 Russians who want to impress their social media followers can now rent huge bouquets of flowers for just long enough to snap an Instagram-worthy photo, it's reported.
Pop-up services are advertising on social networks in preparation for International Women's Day on 8 March, a public holiday in Russia when women are traditionally feted with flowers and other gifts. They're offering 10 minutes with an enormous bouquet - enough time to perfect the best angle and pose - before the courier takes it back, the TJournal news website reports. One account is offering women a fleeting visit from 101 roses for 700 roubles ($12; £10).
Posting selfies with huge bouquets seemingly sent by a boyfriend or secret admirer has been a trend among Russian Instagram and VKontakte social network users for some time.
The 360 TV website contacted the owner of one flower-rental Instagram account, who insisted his service was real and had received many requests. He says the 10 minutes can be extended a little, but not indefinitely. "The most important thing to avoid is: 'I'm going to put some make up on and tidy up' and all that'," he says.
Another account that 360 TV contacted turned out to be a joke set up to mock the new trend, and there was plenty of ridicule from Russians commenting online. "The secret of a mysterious bunch of flowers from a stranger has been EXPOSED," writes one person on Twitter. "This is the quintessence of modern values", says an Instagram user, who suggests a similar service aimed at men: "A Rolex watch, two iPhones on the table and a selfie taken in a Moscow office with a panoramic view."
Next story: Egypt 'spinster' ad campaign backfires
Use #NewsfromElsewhere to stay up-to-date with our reports via Twitter.