Public forces Russian city to keep eternal flame lit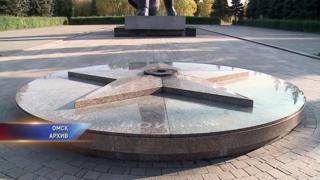 Officials in the Russian city of Omsk have backed down on plans to turn off the eternal flame at the local war memorial after a public outcry.
A passerby noticed on Tuesday that the flame had gone out, and took to social media to ask whether it was an accident, repairs, or perhaps the gas had been cut off, the local NGS news site reports.
The memorial was inaugurated less than two years ago to mark the 70th anniversary of the end of World War Two. It was financed by the Omsk veterans association, and the flame was lit with a torch flown directly from the Tomb of the Unknown Soldier in Moscow. According to the Komsomolskaya Pravda newspaper, the local authorities promised at the inaugural ceremony that the eternal flame would burn constantly.
But in January the city economy department took over management of the flame from the war veterans group and decided they didn't have the 500,000 roubles ($8,600; £7,000) to keep it on all year round.
On Tuesday, an official announced it would only be lit on 17 holidays honouring the military, which led to an outcry from the public, local Prodvizheniye TV channel reports. Veterans association leader Yevgeny Belov said he was "profoundly offended" by the decision, as honouring the memory of the war dead at the eternal flame was "sacred".
The authorities backed down within hours, with Mayor Vyacheslav Dvorakovsky insisting that it was cut off only because of "technical problems. Despite the U-turn, Komsomolskaya Pravda says some local people are finding it hard to get over the decision "to cut back on the holiest of holies - our memory".
Next story: NZ and Fiji turn away 'dirty' barnacle ship
Use #NewsfromElsewhere to stay up-to-date with our reports via Twitter.