Free metro rides for Kiev poetry buffs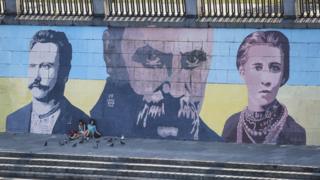 Metro users in Ukraine's capital city are being allowed to ride free of charge at some stations if they can recite a poem by Taras Shevchenko, the country's national poet.
Metro attendants will be waiting near ticket barriers to hear people's poetry offerings, and will then allow them through without a ticket, the Kiev Metro Facebook page says. Ordinarily a single journey costs four hryvnias ($0.15; 12p). The initiative, dubbed Shevchenko "happy hour", is to mark the 19th-Century poet's birthday on 9 March.
The metro giveaway isn't particularly widespread, as it only applies during brief time slots at three stations - including one named after Shevchenko. And despite the "happy hour" name, the travel window is only 40 minutes at two of the stations.
That's left some metro users feeling a bit miffed, even if many like the idea in principle. "Why not at all the stations, why time restrictions?" asks one Facebook user, although others respond that it would be difficult to implement, especially given the crowds at rush hour. "What a great idea. Too bad about the time limits!" another writes.
Ukrainians learn Shevchenko's poems at school, and for some reciting one from memory would not be a struggle. But others aren't so sure - one person jokingly asks: "Read it by heart? Or can I read it from my mobile phone?"
Next story: Police bring McDonald's to custody cells
Use #NewsfromElsewhere to stay up-to-date with our reports via Twitter.