Hanoi rejects ministry's King Kong statue plan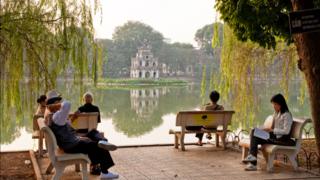 Hanoi's municipal government has rejected a plan by Vietnam's culture ministry to erect a "life-size" King Kong statue by an iconic lake in the city.
The ministry hoped the model would tap into the popularity of recently released blockbuster Kong: Skull Island, which was partly filmed in Vietnam, and give tourists a new photo opportunity in the capital. It had planned to position the statue at Hanoi's Hoan Kiem Lake, a focal point of city life, but that plan didn't impress local officials.
Hanoi authorities say the lake is an important national heritage site, and any King Kong statue would have to be well away from it, the Tuoi Tre newspaper reports. "We have consulted with experts and found that the majority of them objected to the idea," says Truong Minh Tien, deputy director of Hanoi's culture department.
The lake has several historical monuments around it and is also at the centre of a Vietnamese legend, and the proposed site was close to a war memorial.
There's no indication how tall the model ape would have been, but Tuoi Tre says the ministry was keen for it to be "life size". Kong in Skull Island is 100ft (30.5m) tall, according to the film's producers.
This isn't the first King Kong statue to run into trouble in Vietnam. At the film's premiere earlier this month, a huge statue of the ape went up in flames after being ignited by a nearby model volcano. The blaze sparked panic in the crowd, but nobody was injured.
Next story: South Korea warns against eating river rats
Use #NewsfromElsewhere to stay up-to-date with our reports via Twitter.