Italy TV show under fire for discussion on foreign women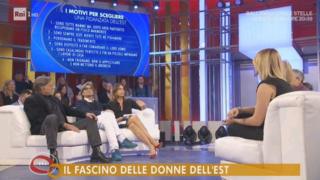 Italian public broadcaster Rai is facing heavy criticism after airing a discussion which centred around stereotypes of Eastern European women.
The segment on Parliamone Sabato, a magazine show on the flagship Rai 1 channel, saw studio guests debate why Italian men might "prefer" to form relationships with foreign women. After interviewing a man who found love with a Russian woman, and showing a video montage of male Italian celebrities with non-Italian partners, presenter Paola Perego announced that she had found a list of reasons online.
Among the points, it said Eastern European women "are all mothers" but regain their figures after having children, always dress in a "sexy" way and forgive betrayals. Corriere della Sera points out that the list itself appears to have been adapted from a website that specialises in "trashy lists" but presents them in an ironic way.
A swift backlash followed from Italians commenting online, many of whom could not believe what they had seen. Others wondered why they had to pay a licence fee for such content.
Rai president Monica Maggioni apologised on Monday, calling it "unacceptable" and a "crazy mistake" by the public broadcaster. It was later announced that the show had been cancelled. "What I see is a surreal representation of Italy in 2017," Ms Maggioni said. "I feel personally involved as a woman, I apologise." The controller of Rai 1 was similarly apologetic, but the criticism wasn't limited to social media.
One of the most blistering responses came from Rai board member Rita Borioni, who said the show combined sexism, stereotypes, superficiality and racist traits, and left her feeling "embarrassed, angry and appalled". "Shameful. At the moment I cannot find any other words," she said.
Next story: Funeral offer for Japan's elderly drivers
Use #NewsfromElsewhere to stay up-to-date with our reports via Twitter.