French pensioners demand end to chip drought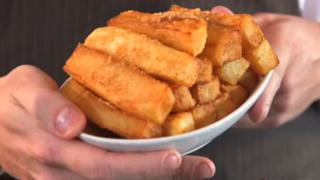 Pensioners living in a retirement home in France are so annoyed at not being served chips with their meals that they have complained to the mayor.
The residents of the Hubiliac home in Saint-Marcel, a town in the east-central Burgundy region, have missed their favourite side order because the fryer in the kitchen has been out of order since early 2015. With no end to the chip drought in sight, the pensioners have formally appealed to the management and the local council, which is responsible for maintenance of the care home, the local Journal de Saone-et-Loire newspaper reports.
"We always had more people signing up for lunch on days when chips were served, it's true", admits the home manager Elisabeth Moreau, but she is still surprised at how far the row has gone. School pupils who also lunch in the restaurant of the home haven't objected to a lack of chips, but then, as the paper notes, they don't take all their meals there. "Chip day was a convivial time, when everyone gathered around to enjoy their favourite finger food", one family member told the paper, recalling a fortnightly treat that "seems like a distant memory".
Mayor Raymond Burdin told the pensioners they will just have to be patient. "We need to reconsider all the equipment that's no longer up to scratch, and buying a fryer alone would cost about 4,000 euros (£3,473; $4,315), so it will have to wait until all the work is completed" - a state of affairs he blamed on neglect by the previous town administration.
Online comment is firmly on the side of the pensioners, with readers complaining a little tongue-in-cheek that depriving them of chips is "tantamount to abuse", and casting doubt on the unaffordability of a new fryer given the fees the families pay, Others are unimpressed with the mayor's attempt to blame his predecessor, as he has already been in office three years.
Mr Burdin remains adamant. His priority is to build a new canteen for the school, so that pupils won't have to share a dining room with the retirement home. He told the paper that everything should be ready by early next year, but "chips are off the menu for now".
Next story: Siberian truants build their own pub
Use #NewsfromElsewhere to stay up-to-date with our reports via Twitter.