Malaysians warned over eating dumped chicken wings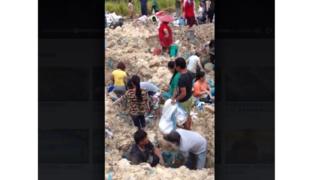 Roast chicken wings are a popular street food in Malaysia, but residents of the town of Sibu are likely to be steering clear of them for a while, The Borneo Post reports.
Customs officers last week disposed of more than 80 tonnes of frozen chicken wings they had seized, by burying them in an area near the town.
Soon after, however, news of the disposal spread on social media and was quickly followed by videos and images of people digging up the dumped food, and reports that the chicken was being sold cheaply in local markets.
The New Straits Times said the wings were now being dug up again to be sent to a landfill. The trade ministry has warned it will take stern action against those who sold the discarded wings, and local authorities have urged people not to consume the chicken wings they dug up "as we do not know their source and quality", the Malay Mail Online reported.
On social media, many people have voiced their anger over the careless way the food was disposed of, as well as over the waste of food in one of the poorest states in the country.
Next story: Japanese castle seeks lord and lady for one night
Use #NewsfromElsewhere to stay up-to-date with our reports via Twitter.