Potatoes, not pot for Vanuatu islanders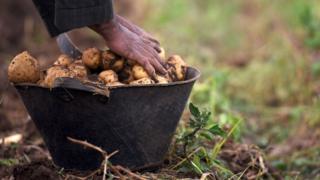 Police in the Pacific island state of Vanuatu have given away free gardening tools to locals in the hope of steering them away from growing marijuana.
Authorities on the island of Tanna are encouraging youths to grow vegetables instead of drug crops, Radio New Zealand International reports. The problem, according to police, is that the island's volcanic soil is so fertile that all tropical crops grow very well, and young people appear to prefer growing and using marijuana instead.
Getting young people to switch from marijuana to more conventional farming has been a "challenge", the radio says, but authorities hope they will be attracted by the prospect of a regular income while contributing to the community.
The police "free tools" scheme comes as a programme to cultivate more potatoes on Tanna gets into full swing, One Papua New Guinea reports. Backed by the Australia, it means Vanuatu won't have to rely on costly imports of food staples from its larger neighbours, bringing down costs and increasing food security.
Agriculture Minister Matai Seremaiah said that much of the food eaten by foreign tourists is imported but could be grown locally.
"We will focus on import substitution of three main crops - potato, onions, and carrots, as much as possible to create impact," he said at an event where he and the Australian High Commissioner dirtied their hands planting crops.
Next story: Free meals for insulted Singapore cabbies
Use #NewsfromElsewhere to stay up-to-date with our reports via Twitter.