Losing Kenyan candidates rush to stand as independents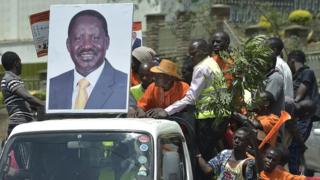 Long queues formed at the offices of Kenya's electoral regulator as hundreds of people, including current MPs and governors, flocked to register as candidates for this August's elections ahead of Thursday's deadline.
The huge majority of these aspiring candidates are losers in party primaries who have resigned their memberships en masse to stand as independents, the Kenya Standard newspaper reports. Police officers and security guards locked the gates of the Registrar of Political Parties to control numbers, assuring those outside that their cases would be heard.
"It is hectic here. We have close to 4,000 requests and the number keeps increasing," registrar Lucy Ndung'u said as crowds were moved to a nearby car park.
Among those still hoping to stand are the current governors of Kirinyaga and Nakuru counties in south-central Kenya, both of whom lost out in the governing Jubilee Party's selection process. Several MPs are among those registering as independents after losing party backing, The Daily Nation newspaper says.
Potential candidates hoping for a second chance at a political career need to produce a letter, a copy of the symbol they wish to appear on ballot papers, and a 500 shilling (£4.85; £3.75) fee by 4 May. The candidacy has to be processed by Monday.
'Respect the voters'
Addressing the mass resignations from the Jubilee Party, which has been seen in the press as a revolt against his authority, President Uhuru Kenyatta urged supporters to respect the outcome of the primary elections.
"Why are people blaming me when the voters made their decision and chose the leaders they want at the nominations? Let us accept the decision of the electorates," The Daily Nation quoted him as saying.
The opposition Orange Democratic Movement (ODM) has also seen a rash of high-level resignations, Mediamax Network reports.
However, some of those lining up to register as independents suggested that their primary defeats might not have been entirely legitimate. Incumbent Kisumu governor Jakton Ranguma, formerly an ODM member, told The Daily Nation "You will get another opportunity to express your popular will in an election whose outcome is not predetermined".
Parliament Deputy Speaker Kembi Gitura spoke of his frustration at losing out for his seat's Jubilee Party nomination, a result he is currently appealing against. "I know the votes were stolen, but the party is taking too long to resolve the complaints. I cannot wait for their ruling," he said.
Reporting by Alistair Coleman
Next story: Potatoes, not pot for Vanuatu islanders
Use #NewsfromElsewhere to stay up-to-date with our reports via Twitter.