Ukrainians see 'karma' in dog bite for Russian official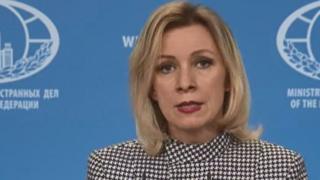 A story about the six-year-old daughter of a Russian official being bitten by a dog, and the difficulty in finding a rabies vaccine to administer to her at the local hospital, might be expected to provoke sympathy in your average reader. But this has not been the case in Ukraine.
Then again, Russia and Ukraine have been in conflict for years. What's more, the official involved was Maria Zakharova, the spokesman for the Russian Foreign Ministry, who has staunchly defended Russia's conflict with Ukraine in terms that pundits there have described as as "boorish" and "demotic".
And her daughter was bitten on a visit to Sevastopol, Crimea, which Russia annexed from Ukraine in 2014.
Ukraine crisis: What's going on in Crimea?
The hashtag #InSevastopol trended in Ukraine, in reaction to a report of the incident in Russian media.
"This is terrible. I hope the doggy was not hurt," one user said on Facebook. "Well, at least Crimea is yours, have a good time with it," was another comment. A third described the incident as "karma for lies".
Some also took the opportunity to mock Mrs Zakharova with the lines she has used in the past about the fighting between the two countries.
Could it be "Ukraine's fault there are no medicines or fuel?" asked one user. Another posted an image of a dog having its head massaged with the caption "Ukrainian sabotage group gets rewarded after a high-profile mission in Sevastopol."
For her part, Mrs Zakharova shrugged off the incident, saying on Facebook that it was a minor thing. But the lack of sympathy in the comments may be some indication of the ill-will that continues between the two countries.
Next story: £1,000 reward for missing Hong Kong owl chicks
Use #NewsfromElsewhere to stay up-to-date with our reports via Twitter.