Men-only island set for UNESCO World Heritage status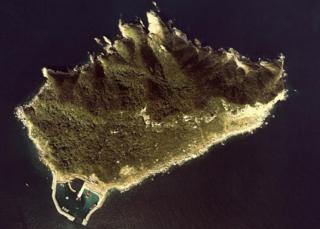 A Japanese island where women are not allowed to set foot has been recommended for listing as a UNESCO World Heritage site.
Okinoshima in south-western Japan only allows men to visit for religious reasons, the Asahi Shimbun newspaper reports. Even then, visitors are not allowed to bring back any souvenirs to the mainland, not even a blade of grass, the paper says. It has been recommended for World Heritage status by an advisory panel, with a final decision to be made at a UNESCO meeting in July.
The home to the Munakata Taisha Okitsumiya shrine, which honours a goddess of the sea, Okinoshima was the site of rituals for the safety of ships, and successful exchanges with the people of the Korean Peninsula and China between the fourth and ninth centuries, the Japan Times says.
Religious taboos still persist on the island, and - as well as the ban on women - male visitors are first required to strip naked and perform a cleansing ritual, and must never disclose the details of their trip. "Those are issues that will have to be dealt with if the listing goes ahead," Asahi Shimbun says, noting that tourism would surely become a factor in Okinoshima's near future.
However, there's currently little chance of the gender bar being lifted. "Our stance will remain unchanged even if it's registered in the World Heritage list," a Munakata Taisha official told the Mainichi Daily, "We'll continue to strictly regulate visits to the island."
Reporting by Alistair Coleman
Next story: Inflatable 'poo protest' against New Zealand government
Use #NewsfromElsewhere to stay up-to-date with our reports via Twitter.