Egyptian sports fans wrestling with regret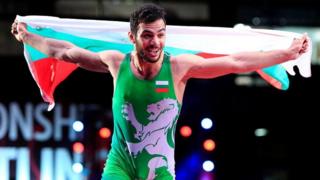 Wrestler Tarek Abdul Salam's gold medal at the European Wrestling Championships this weekend is being mourned rather than celebrated by some in his native country.
The reason is because the Egyptian-born wrestler won it for Bulgaria, where he was naturalised last January, Al Arabiya website reports.
The 23-year-old had been a rising star in Egypt, winning a gold at the African Wrestling Championship in 2015 and silver in the Mediterranean Wrestling Tournament.
But when he picked up an injury in training that required surgery, Abdul Salam felt that the Egyptian Wrestling Federation didn't respond to his needs, he told Egyptian TV channel DMC.
So he went to Bulgaria, where he worked in a kebab shop, hoping to pay for the treatment himself.
When Bulgarian officials learned about his situation, they offered him citizenship and funding to help pay for his treatment. Abdul Salam accepted, but appears to have some regrets.
"The moment I won, I wished I raised the Egyptian flag," he told DMC. This sentiment was echoed by several sports fans there.
"Egypt did not believe in Tarek so he became Bulgarian and they [later] knew his real value and appreciated him," sighed one user on Twitter.
Next story: Afrobeat musician's longest-note attempt falls flat
Use #NewsfromElsewhere to stay up-to-date with our reports via Twitter.