Saudi authorities say no romance in the staff room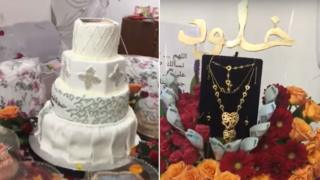 A principal at a girls' school in Saudi Arabia was perplexed this week to open the door to her staff room one morning and find it covered in elaborate declarations of love.
Rose petals and bank notes were strewn over the floor and furniture, large helium balloons lined one wall and on a table in the middle of the room were several cakes, the largest several-tiered and covered in white royal icing.
In one corner of the room, a gold necklace was displayed in the middle of several great bunches of roses. Next to it was a note lit with flashing lights. All this turned out to be the elaborate work of the husband of one of the staff, who had apparently fought with his wife and wished to make up with her, the Gulf News website reported.
A video of the gesture was posted on social media, where it has been viewed tens of thousands of times. Amid the responses to it, however, were several angry questions as to how a man had managed to get into a girls' school.
"It is the height of goodness and loyalty for a man to honour his wife but not in this reckless manner. If he wanted to do this he could have done so at his or his family's home," sniffed one such response.
Local education authorities investigated and found the man was a member of their own security and safety department, and had let himself into the school after it was closed.
Boys and girls do not mix in schools in Saudi Arabia's conservative society, just as men and women are not expected to mingle in public spaces. The government is moving to relax some of its restrictions on women, however, in the hope of enabling more of them to work.
Next story: Maori haka and language may keep dementia at bay
Use #NewsfromElsewhere to stay up-to-date with our reports via Twitter.