Australians sizzle over vegan sausage offer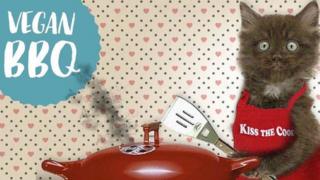 One of the great Australian traditions, the community event known as the sausage sizzle, became a bone of contention this weekend after customers of a well-known DIY chain store were offered only vegan sausages.
The charity event, held at a Melbourne branch of the home improvement store Bunnings, was organised by a cat protection organisation last Sunday, Mother's Day in Australia. But, as the Herald Sun newspaper reported, there were "a few tantrums" as customers realised that the "snags" - slang for a barbecued sausage - were meat-free.
Speaking to 3AW radio, one customer said "We were a little shocked, considering it's probably one of the most male-dominated destinations in the country. We were like ... thank you, but no thank you."
But Natasha Reus of Cheltenham Cat Rescue said it wasn't the first time they'd held a vegan sizzle, and that they had sold 550 snags on the day.
"Some people were a bit angry, we had the odd Oscar-winning performance but most people asked questions and many gave them a try," she told the Herald Sun. "One woman in particular was very upset and very rude. I think she complained," she continued.
Bunnings agreed that times are changing, even among meat-loving Australians, with manager Tony Manzone saying "Since their inception the guidelines have been consistent. Meat sausages, onions and bread. This has not changed.
"However, in recent years, and on a case-by-case basis, we also allow community groups to have a vegan fundraising sausage sizzle if that is their preference," he said, pointing out that their in-store cafes already promote meat-free options.
Democracy sausages
The Australian sausage sizzle is an event where sausages are barbecued and given away or sold, often to raise funds for charity.
They've become at fixture on election days, with sizzles held outside polling stations, and the #democracysausage hashtag trending on Twitter. Bunnings is known for renting space outside its stores to community groups for fundraising sizzles.
Revealing that the vegan sizzle had raised $1,300 (US$962, £747) for the cat rescue charity, Ms Reus said "We explained we were an animal rescue group so couldn't sell animals to eat and so people had to think about that. At least we've got people talking about the issue."
Reporting by Alistair Coleman
Next story: Saudi authorities say no romance in staff room
Use #NewsfromElsewhere to stay up-to-date with our reports via Twitter.