Puzzled Russians hail a bus, board a hearse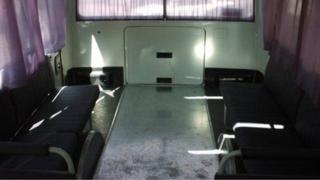 Busses are not usually the most comfortable modes of transport, but some in the Russian city of Omsk are making passengers particularly uneasy.
In some cases, instead of the usual seats lining both sides of the bus all the way to the back, passengers have found "a weirdly disguised back hatch, no seats at the back, and extra radiators", the news portal Superomsk.ru wrote.
The buses, run by private companies, appear to have lived a previous life as a hearse, with a hatch to enable undertakers to load a coffin on and off, benches instead of seats at the back to enable mourners to sit on either side of the deceased, and curtains to afford the mourners some privacy.
In Russia, it's a long-standing practice for mourners and the deceased to travel to a funeral in the same vehicle, so all this is what one would normally expect from a hearse, rather than the bus for your morning commute.
The unsettling news has been shared on the Russian social media network VKontakte, where the pictures have elicited wry responses:
"They are preparing Omsk residents for a bright future," one user said.
Another joked that given the condition of Omsk roads, "this could prove very useful".
Next story: Tokyo police crack down on cosplay kart tour safety
Use #NewsfromElsewhere to stay up-to-date with our reports via Twitter.