French Polynesia yacht wreck leads to drug problem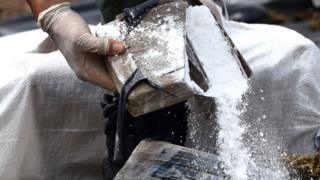 Authorities in French Polynesia say that drug use has spiked on one of its atolls after a yacht ran aground there last month.
Radio New Zealand reports that when police were called to the burning yacht wrecked on the Faaite atoll in the Tuamotu Archipelago, they found its cargo to be over half a ton of cocaine. In all, 237kg (522 pounds) of the drug was taken to Papeete, the capital of the French overseas territory, along with two Spanish crew members. Another 370kg of the drug was thought to have been consumed in the fire.
However, in scenes reminiscent of the romanticised tales of smugglers and looters evading the Revenue Men in 17th Century England, it appears that locals helped themselves to some of the shipwrecked cargo and hid it out of sight of the authorities. According to French broadcaster Polynesia 1ere, Faaite mayor Jean Louis Williams called in the police after noticing drug use among the atoll's 400 inhabitants.
"There are young people from the atoll who have taken drugs. I warned the gendarmes to come, but I do not know more," he told the TV. According to investigators, youths took some cocaine from the burned-out wreck and buried it at locations around the atoll. With a judge opening an investigation into the appearance of cocaine on the tiny island, Faaite is living with "the smell of fear," Polynesia 1ere's reporter says.
The Pacific appears to have become a major route for the drug trafficking trade. According to Radio New Zealand, 1.4 tonnes of cocaine was seized in the region on two other yachts in January of this year.
Profile: French Polynesia
Next story: Kyrgyz president shows off his musical skills
Reporting by Alistair Coleman
Use #NewsfromElsewhere to stay up-to-date with our reports via Twitter.