Serbian activists vow to defend Nikola Tesla's urn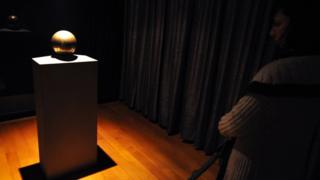 A group of activists in Serbia have vowed to stop attempts to remove the remains of pioneering engineer and inventor Nikola Tesla from a museum.
Tesla's ashes are kept in a spherical urn in a museum which bears his name in the Serbian capital Belgrade, and the "Leave Tesla Alone" group say they will resist any attempts to move him to the Church of St Sava, Balkan Insight website reports.
There have been sporadic attempts to move the urn to the resting place of many Serbian national heroes, and the group says they will "defend the wishes of Tesla and his heirs who wanted him buried at the museum".
The Serbian Orthodox Church last week said that his current resting place was a "disgrace" and said it would press for the transfer. "The church council thinks that the earthly remains of the Serbian and world giant Nikola Tesla do not belong with museum exhibits," it said, as quoted in Balkan Insight.
In 2015, the Church used a photo of artists meditating at the base of the plinth carrying Tesla's urn to suggest they were carrying out "Satanic rituals", an accusation strongly denied by the museum. "We preserve and take care of everything concerning Tesla. This kind of story has nothing to do with reality," museum director Branimir Jovanovic said at the time.
Tourist attraction
Nikola Tesla was born in what is now Croatia, and was of Serbian ethnicity. He is best known for his pioneering work with electricity, including the design of modern alternating current, and for working with Thomas Edison.
His legacy includes the Tesla electric motor car company and Belgrade's international airport named in his honour, and the 1984 chart single Tesla Girls by Orchestral Manoeuvres in the Dark.
He died in New York in 1943, and his remains were interred at the Nikola Tesla Museum in Belgrade in 1957 on the wishes of his family.
Marko Marjanovic of the Leave Tesla Alone group has accused church leaders of trying to use Tesla as a tourist attraction for St Sava's.
"They wish to appropriate him, but Tesla belongs to the entire world." Marjanovic said.
Reporting by Alistair Coleman
Next story: Japanese company holds 'macho' competition
Use #NewsfromElsewhere to stay up-to-date with our reports via Twitter.