Georgian journalists' bag protest over reporter's arrest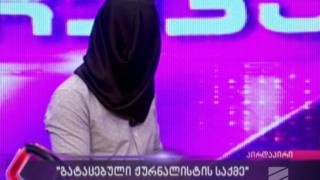 Georgian journalists have worn bags on their heads in solidarity with a dissident Azerbaijani reporter who was allegedly abducted in Tbilisi a week ago.
Afqan Muxtarli, who was living in exile in Georgia, disappeared last week only to appear in a court in the Azerbaijan capital Baku, where he has been charged with crossing the border illegally and smuggling money.
Georgian Interior Minister Giorgi Mghebrishvili ruled out Georgian involvement in the alleged abduction, appearing on national TV to say that statements made by Mr Muxtarli's lawyer were "fully one-sided and without foundation", and that theories are "circulating without any factual evidence or substantiation".
Muxtarli's wife and the Georgian opposition continue to question the officials' assertions, and earlier this week by the European Union urged Azerbaijan to release him.
Bag protest
Several prominent TV presenters wore bags over the heads during their shows on 6 June, joining a larger journalist-driven effort to show silent solidarity with Mr Muxtarli when journalists donned bags at a parliamentary committee session earlier in the day.
Popular journalist Inga Grigolia wore a bag while greeting the audience of her current affairs magazine Reaktsia (Reaction) on TV Pirveli. "Reaktsia is joining the journalists' protest and demanding a timely response from the investigation as to how the fugitive journalist appeared in Azerbaijan," she said.
Giorgi Gabunia, the host of the primetime Archevani (Choice) talk show on Rustavi-2 TV channel, also wore a bag on his head throughout the entire programme.
He was scheduled to interview Deputy Interior Minister Shalva Khutshishvili on the Muxtarli case via a video link during the show, but Mr Khutshishvili walked out of the interview in protest when the host refused to remove the bag.
Reporting by Alistair Coleman
Next story: Estonian tax threat to Finns' booze cruises
Use #NewsfromElsewhere to stay up-to-date with our reports via Twitter.