Russian TV offers gay people one-way tickets to leave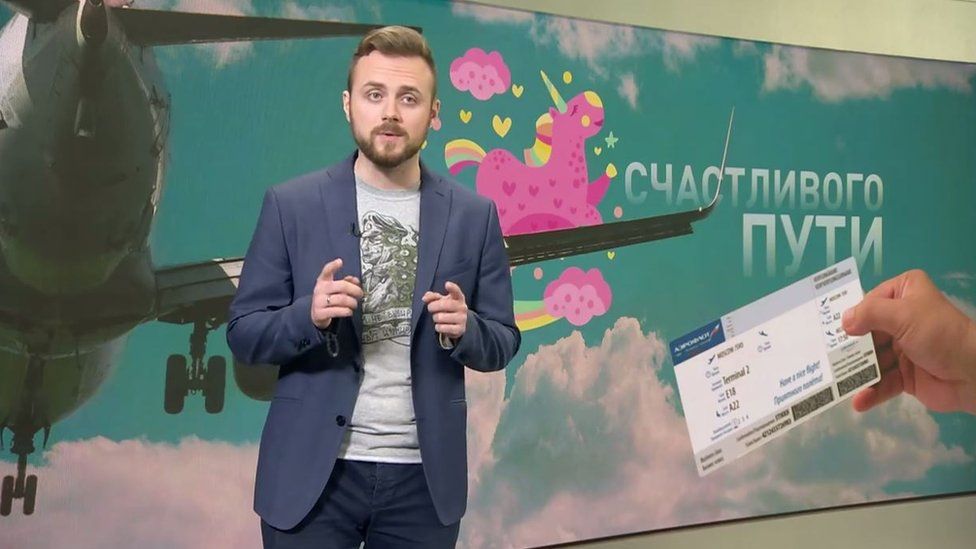 A Russian religious television channel is offering to pay for one-way plane tickets for gay people serious about emigrating from the country.
In a video on its social media channels this week, Tsargrad TV called on gay people to compete for a one-way plane ticket overseas.
"Just recently, California - the most liberal state in the USA by the way - proposed to facilitate the granting of green cards to Russian perverts," said TV host Andrei Afanasyev.
The channel regularly uses offensive terms to refer to LGBT people.
"The staff of Tsargrad TV support this initiative. Moreover, we are ready to pay for a one-way ticket to anyone who plans to emigrate in complete earnest, and can provide a medical certificate proving that they are sodomites or have other forms of perversion," he added.
"We really want you to move there, where you can openly submit to your sins."
The channel insisted it was not trolling users and that it "wants to do good".
But a Russian sexologist speaking to the lifestyle website Afisha Daily said it was unlikely anyone would be able to obtain the required medical certificate, as sexual orientation was not considered a disease.
Tsargrad is a niche satellite channel that was set up to promote Christian Orthodox values.
Its name means Constantinople - some indication of its religious and political outlook - and it claims an audience of about a quarter of the Russian population.
Its founder, Konstantin Malofeev is a prominent businessman who vocally supports President Vladimir Putin. He has said he views it as the equivalent of America's Fox News channel.
Tsargrad frequently criticises Western countries for "low morals".
A few people have expressed their interest in taking up the offer, though it is unclear how serious they are.
"It looks like my winning ticket to get out of this frigging country. What should I submit?" asked one.
A large majority of people responding to the video were indignant, calling the channel's staff "savages" and vowing to block it from their feeds.
A few, however, agreed with it: "I support Tsargrad. Let gays go to their USA. We have our own values in Russia, Orthodox one. Godly ones," said one user.
Anti-gay prejudice is rife in Russia, where political leaders portray being gay as a sign of degenerate morality and criticise countries that promote equal rights for LGBT people.
Reporting by Yaroslava Kiryukhina
Use #NewsfromElsewhere to stay up-to-date with our reports via Twitter.