South Korea dumps 'dictator' stamp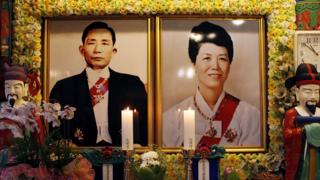 A postage stamp commemorating the centenary of former South Korean dictator Park Chung-hee has been scrapped while his daughter stands trial facing corruption charges.
Korea Post approved the stamp last year while the military leader's daughter - ex-President Park Geun-hye - was still in power, Chosun Ilbo newspaper reports. She was impeached this March, and is currently standing trial accused of bribery, abusing state power and leaking state secrets.
According to the Korea Times, the unanimous decision by a Korea Post committee to honour Park Chung-hee was denounced by opposition groups at the time as "glorifying the dictatorial strongman who abused the human rights of democratic activists".
But in the wake of what Chosun Ilbo calls a "tidal change" in South Korean politics, the same committee decided against issuing the stamp, which was due to be issued in September. This new decision was met by protests from conservative groups as "ideologically charged" and they said it "further divides the public in an already polarised country".
An election triggered by conservative Park Geun-hye's impeachment brought liberal politician Moon Jae-in to office.
Park's controversial legacy
Park Chung-hee came to power in a military coup in 1961 and became the country's president two years later, ushering in a period of martial law and a crackdown against political opponents.
After his wife Yuk Young-soo was assassinated by a North Korea sympathiser in 1974, his daughter Park Geun-hye assumed her duties of his First Lady. He was subsequently killed by the head of his secret service in 1979, the motive for the assassination remaining unclear.
While he's remembered for overseeing the country's emergence as a modern economic force in East Asia, his legacy also includes human rights abuses, which delayed South Korea's development as a democracy. Park Geun-hye eventually became South Korea's first female president in February 2013.
There's never been a stamp set commemorating any South Korean leader. The reason for this, according to the Chosun Ilbo, is that "most ended their tenure in disgrace".
Reporting by Alistair Coleman
Next story: Russian imperial hostel opens for Jerusalem pilgrims
Use #NewsfromElsewhere to stay up-to-date with our reports via Twitter.