Food bug upsets Depeche Mode gig in Belarus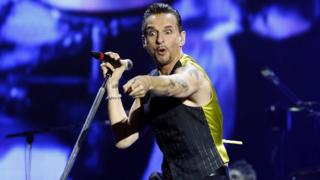 Depeche Mode singer Dave Gahan is reported to be recovering from a bout of food poisoning which forced the band to cancel a gig in Belarus.
The British synthpop legends announced on their website that they had been unable to perform the show at Minsk Arena on Monday night "due to band member illness".
The Belorusskiye Novosti website described the incident with Gahan "the most expensive poisoning in the music history of Belarus".
It quoted the Belarusian gig organiser, Andrey Alekseyev, as saying that the singer fell ill at 1530 local time. Two hours before the concert was scheduled to start, doctors said he had to cancel the show.
The show organisers said they had sold 7,000 tickets for the 12,000-capacity venue, and urged fans to retain their tickets as the show might be rescheduled.
Ukrainian website Tabloid cited the chief doctor of Minsk's hospital No 9, Valeriy Kushnirenko, as saying that Gahan's condition was "satisfactory - he is alright"; and the Belarusian Naviny.by website posted a photo on its Facebook page of the singer posing with medical staff before he left the hospital.
Fan reaction
"I really feel sorry for those who have been looking forward to the show and possibly travelled for a long distance to get there," said Yevhen Bocharenko in Ukrainian on Facebook.
"I'm sure there were people who would come from other countries just to get there. I hope the show will still take place later."
Another fan was relieved that Gahan's illness wasn't more serious, adding: "I wonder what he thought about the Belarusian hospital, though."
Depeche Mode, who released their debut album Speak & Spell in 1981, are currently on a nine-month tour to promote their 14th studio album, Spirit.
Should the band's lead singer "Shake the Disease", the band's next scheduled dates are in Kiev, Ukraine on 19 July and Warsaw, Poland on 21 July.
Reporting by Dmytro Zotsenko and Tim Masters
Next story: Saudis grapple with fake street sweepers
Use #NewsfromElsewhere to stay up-to-date with our reports via Twitter.