Estonia gets taller after changing measurement system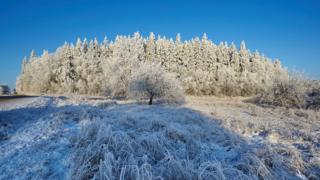 The Baltic nation of Estonia is to become slightly taller after switching the way it measures heights above sea level.
It is switching away from the Russian-based datum to the European Vertical Reference System, which adds between 15-24cms (6-9.5 inches) to vertical measurements in the country, depending on the area, the Postimees newspaper reports.
That means local cartographers will have to add 20cm to Suur-Munamagi, the country's highest point, which will measure in at 317.4m (1,041 feet) above sea level from the beginning of next year.
Previously, heights were calculated from the Kronstadt tide gauge in St Petersburg, the reference system used for Russia and most countries which were under the sphere of the former Soviet Union.
But as a member of NATO and the European Union, Estonia is keen to move over to standards used by its allies. Estonian Land Board official Tambet Tiits told national broadcaster ERR that "The Baltic elevation system of 1977 is obsolete... and then there's the wish to be in one and the same system with Europe".
It's a task that's long overdue, said Mr Tiits, saying that half of the country's Kronstadt-based elevation markers are damaged anyway, making surveys time-consuming and costly.
The official switch will be made on 1 January 2018, broadcaster ERR adds, just in time for the centenary of Estonia's declaration of independence.
Reporting by Alistair Coleman
Next story: India's Modi wants books instead of bouquets
Use #NewsfromElsewhere to stay up-to-date with our reports via Twitter.