'Sorcery' delays Papua New Guinea election count
By News from Elsewhere...
...as found by BBC Monitoring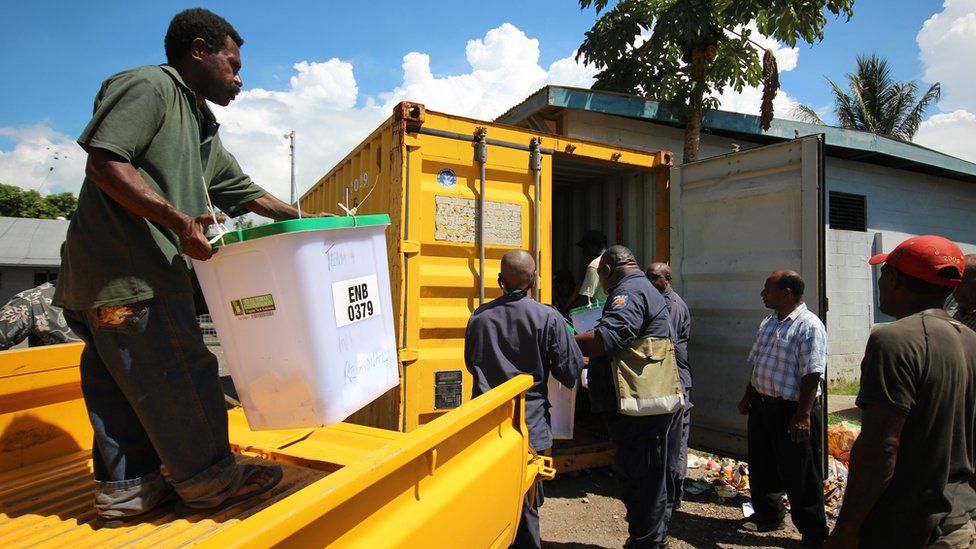 The count in Papua New Guinea's troubled general election has been delayed in one province following accusations of sorcery, it's been reported.
According to Radio New Zealand International, recounts have been ordered in two constituencies in the country's East Sepik province because more than one candidate has alleged that witchcraft has been used to remove their votes from ballot boxes.
The radio said that priests had been asked to pray over the boxes to "shield" them from "sinister forces".
It's not the first time superstition has affected this election - in April, officials had to reassure church leaders that the country was not being "signed up for the number of the beast", after it emerged that 666 writs had to be signed to initiate the poll.
"Such views are too shallow and are rejected outright," Electoral Commissioner Patilias Gamato said at the time. Mr Gamato recently took out a court injunction to stop his critics from calling him Mr Tomato.
Voting closed in the election on 8 July, but only 26 out of 111 seats have been declared so far. Radio New Zealand says that "multiple issues" including the arrest of poll scrutinisers and candidate grievances are holding up the count.
Witchcraft and sorcery remain a major issue in some parts of Papua New Guinea. Deaths and mysterious illnesses are sometimes blamed on suspected sorcerers, and officials say accusations of witchcraft are often used to justify violence.
The country only repealed its controversial Sorcery Act in 2013, which allowed an accusation of witchcraft as a legitimate defence for violence, and now treats such cases as murder.
A mass trial featuring 122 defendants began in March of this year over the deaths of five men and two boys who were killed in the belief they were conducting sorcery, Australia's ABC News reported at the time.
Reporting by Alistair Coleman
Use #NewsfromElsewhere to stay up-to-date with our reports via Twitter.