'Madonna of the Pedalo' blesses Italian bathers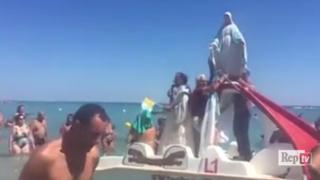 An Italian priest has upped the ante in his annual blessing of his local port and beach by taking to the waters with a statue of the Virgin Mary atop a pedalo.
Usually priest Don Mario Calogiuri takes the word of God to the beach at San Foca on Italy's southern tip, and blesses revellers from "between the deckchairs and umbrellas" in a swimsuit, La Repubblica reports.
But this year, he's gone one further by having a statue of the Madonna lifted to the top of the slide of a beach pedalo, which then went about the swimmers as Father Calogiuri blessed a small crowd through a microphone.
Not the most stable of platforms, it took two helpers to prevent the statue of the Virgin from taking a tumble as the small boat rocked in a modest swell.
The Madonna of the Sea blessing is an annual event in San Foca, and is traditionally intended to protect local fisherman from the elements and grant them full nets. But in recent years it appears the event has expanded to take in beachgoers as well.
Next story: Police netball team breaks up fight, wins game
Use #NewsfromElsewhere to stay up-to-date with our reports via Twitter.