'No major incidents' as driverless buses launch in Estonia
By News from Elsewhere...
...as found by BBC Monitoring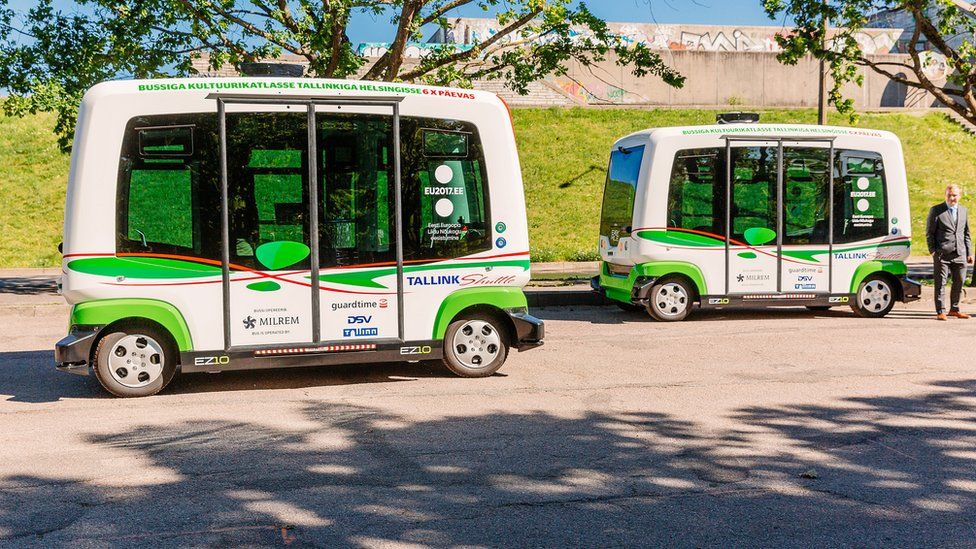 Authorities have reported "no major incidents" after the first three days of a driverless bus service in the Estonian capital Tallinn.
A pair of vehicles are operating on a route through the city as part of the Baltic state's presidency of the European Union, and have so far managed not to collide with any other road users, national broadcaster ERR reports.
But there have been a number of near misses since the launch on Saturday, ERR says. An eyewitness reports that one of the buses failed to give way to a police car with its lights flashing on Monday; while an ERR photographer saw a bus ignore a red light at a pedestrian crossing, ploughing on regardless of the "surprise" it had provoked.
Despite no-one driving, local traffic law means that there still has to be a responsible person on board, meaning that all passengers are greeted by a host. They've been tasked with explaining the technology to passengers new to the world of autonomous vehicles, ERR says.
The buses run from the city centre to the Kultuurikatel, a former boiler house transformed into a creative hub where the EU Presidency is being based for the six months that it rests with Estonia.
It's cost 4m euros ($4.75m; £3.59m) to host the presidency there, Estonian newspaper Postimees reports. While this figure has raised some eyebrows, government officials say that they hope to turn a profit, pointing out that Latvia's 2015 stint with the presidency cost Riga some 80m euros.
The buses themselves cost 100,000 euros, funded largely from the private sector. People who want to try for themselves should hurry - they are only going to be on the road until the end of August.
Reporting by Alistair Coleman
Use #NewsfromElsewhere to stay up-to-date with our reports via Twitter.