Pair sell home to repair Russian suspension bridge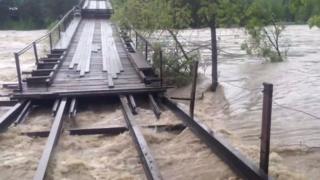 Two Russian men have sold an apartment, car and a garage in an attempt to reconstruct a suspension bridge in Russia's Far East.
Yuri Vasilyev and Yevgeny Levin have spent 10m roubles ($170,000; £132,000) over three years to rebuild the bridge in Russia's Altai after it fell into neglect and was largely washed away in floods, Komsomolskaya Pravda news website reports. The men carried out the bulk of work themselves, but asked local residents for advice, and had a building company to oversee their workmanship.
The bridge over the Katun river was neglected after its previous owner went bankrupt, the men explained. "It was sad to see. And it's a shame because this bridge has history. It is Altai's architectural landmark and we decided to save it," Yuri Vasilyev told TJournal news website.
They've not been able to restore the bridge to full use. While it was able to carry vehicles in the past, it's now only considered strong enough for pedestrians.
However, social media users seemed split over the restoration. A poll on Russian social network VKontakte revealed that a small majority thought it a futile undertaking, while 45.9% said the men had done the right thing.
Some people questioned the men's motivation, with one cynical newspaper commenter remarking "Yeah right, an era, history; this is not simply a bridge but a pot of gold"; while others applauded their work: "Well done! We are proud of such gold nuggets," a VKontakte user said.
But the pair insisted that they were not motivated by the lure of the rouble. "Money is not the most important thing. I want to be doing something useful and tell people about our land's history," Vasilyev said.
Reporting by Ksenia Idrisova
Next story: Dating app aims to boost Russian voter turnout
Use #NewsfromElsewhere to stay up-to-date with our reports via Twitter.