Jackie Chan joins fight to save endangered pangolin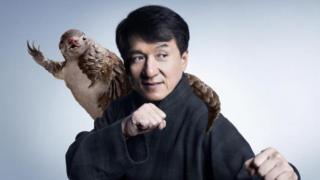 Martial arts superstar Jackie Chan is taking part in a campaign against consuming endangered pangolins, as Malaysia takes steps to ban the hunting of the animal.
The Rush Hour star appears in a video where he trains a trio of pangolins to use kung fu to defend themselves, while urging viewers against eating pangolin meat or using their scales for traditional medicine, Taiwan News reports.
The "Kung Fu Pangolin" campaign, headed by the WildAid organisation, will also appear on billboards in China and Vietnam, the two largest pangolin consuming nations in the Asia region.
Pointing out how previous campaigns against shark fins and rhino horn have been successful, WildAid chief Peter Knights had high hopes for the pangolin campaign. "Jackie reaches a vast audience across Asia and there are clear signs these campaigns have had an impact and attitudes are changing," he said.
Crackdown on poaching
The new campaign arrives as one Malaysian state takes urgent moves to outlaw the hunting of the animal.
The government of Sabah, on the northern part of Borneo, is to rush through moves to make pangolins a "totally protected" species, The Malay Mail newspaper says.
Once approved by the state's Cabinet, hunting the animal will carry a mandatory prison sentence of up to five years. Last month, officials seized eight tonnes of pangolin scales at a port in Sabah.
The move comes after warnings that continued poaching poses an existential threat not only to pangolins, but to the biodiversity of the region, the Clean Malaysia environmental news website says.
"If these illegal hunting activities are not checked, the population of the protected and endangered wildlife species in the state will shrink in no time," Rahimatsah Amat of the Sabah Environmental Trust said.
Pangolins are the most trafficked mammals in the world, and over a million have been poached from the wild in the last ten years, WildAid says. The meat is considered a delicacy, while the scales are thought to have properties in traditional Chinese medicine.
When attacked, the animals roll into a ball and use their scales for defence. While this might be fine against natural predators, it makes it easy for poachers to catch these shy, nocturnal animals.
Reporting by Alistair Coleman
Next story: Icelandic committee bans 'foreign' horse names
Use #NewsfromElsewhere to stay up-to-date with our reports via Twitter.