Trousers-down minister statue protests NZ water quality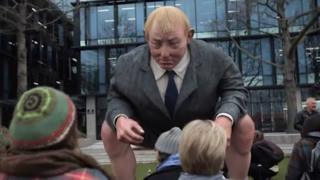 A larger-than-life statue of New Zealand's environment minister, fashioned from horse dung, has been left outside council offices in Christchurch.
The work by artist Sam Mahon shows minister Nick Smith with his trousers round his ankles, genitals on display, defecating into a glass of water, the New Zealand Herald reports.
It's a protest against the government's water quality policy, which aims to improve water quality in lakes and rivers. Opponents say it will relax standards, however, and could expose people to harmful bacteria.
A last-minute court injunction by Environment Canterbury (ECan) failed to stop the protest. A court had banned the statue from being delivered to ECan last week, so it was carried to a public footpath nearby instead, its bare buttocks facing the regional council building.
Answering critics who thought the statue protest crude, Mr Mahon said that "If you want to make a political comment about something, coat it in chocolate. So I've got the idea of what Nick's doing to us, and if people laugh on both sides, they'll swallow the medicine."
Thick skin
In response to the latest attack on his clean water policy, the minister told the press that he thought the caricature "pretty crude art", but added he was "not that bothered", having developed a thick skin during his political career.
Speaking to New Zealand Herald, he said: "It is a bit crass, and there are far smarter ways of people expressing themselves without being offensive."
This isn't the first time Dr Smith has been the subject of Mr Mahon's creative ire. In 2009, a cow manure bust of the minister made to protest dairy farm pollution sold for $3,010 ($2,200; £1,700).
The statue is likely to be taken to Nelson in Dr Smith's constituency, where Mr Mahon says he wants to take it "on a few laps" of the market where the minister holds meetings with constituents.
"The scary thing is, when I left art school, I figured I'd be painting Madonnas, and I end up sculpting his genitals. It's not where I wanted to be at the age of 62," Mr Mahon told Stuff.nz.
Reporting by Alistair Coleman
Next story: Aussies grapple in new ID law for takeaway booze
Use #NewsfromElsewhere to stay up-to-date with our reports via Twitter.