Ukraine far-right accused of 'witch hunt' over children's book
By News from Elsewhere...
...as found by BBC Monitoring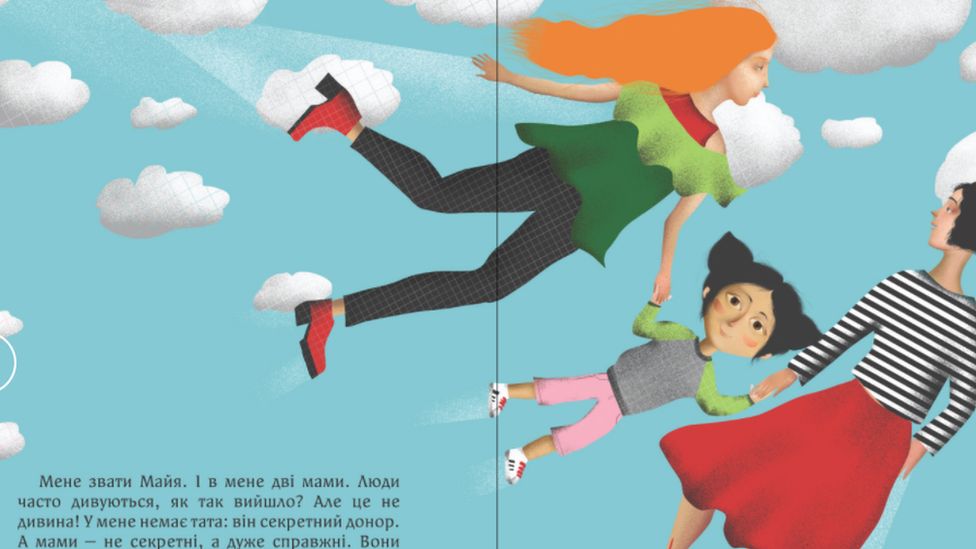 Ukrainian writer Larysa Denysenko says she is the victim of a "21st century witch hunt" after having to withdraw from a literary festival in the city of Lviv where she was to discuss her children's book featuring same-sex parents.
She told the Dzerkalo Tyzhnya newspaper that the city authorities received a letter from 15 radical nationalist groups warning of "having to take all possible measures" to halt the session about the book Maya and Her Mummies at the high-profile Publishers' Forum, because it was "destructive propaganda for non-traditional values".
The Forum printed a scan of the letter on its website, and said it had received other threats on social media as well.
Ms Denysenko said that neither the Forum nor the police were able to guarantee security at the presentation, due to take place in a children's library, so she agreed to cancel the event out of a "sense of personal responsibility for children's safety".
She added that accusations of propaganda were nonsense, as the book argued for the primacy of love and tolerance, not for one sort of family arrangement or another.
"I get the impression that these people haven't read the book. And what are 'standard values' in a country where so many single mothers have to raise children on their own?" she said.
The Lviv newspaper Vysokyy Zamok agreed, saying the book told 17 stories about children from ethnic minority backgrounds, or coping with parents working abroad and other family difficulties, but it was "just one story about a child with two mummies that, it seems, has caused all this hard-right hysteria".
Ms Denysenko, a UN Goodwill Ambassador who campaigns for children's rights, wrote on her Facebook page that "these ultra-nationalist groups and churches are portraying me as a 21st century witch".
Her page is full of expressions of support from members of the public, who say the book's message is one of tolerance and acceptance, and deplore attempts to silence the writer as "diktat".
But there have been hostile comments elsewhere on social media, overwhelmingly focused on the same-sex issue. One critic said "such books should be burned", and another dubbed it a "nail in the coffin of the Ukrainian family".
Such is the furore over threats to the Forum, not to mention calls for the police to investigate, that one of the letter signatories, Yuriy Dadak, of the Spirit of the Nation group, has hastened to assure reporters that nationalist groups would carry out "no acts of provocation".
But the chairman of the Publishers' Forum, Oleksandra Koval, told Vysoky Zamok that "all points of view can be made at the Forum" and denounced the far-right threats as "signs of totalitarianism".
She also called on the police to provide additional protection to the Forum, which will be discussing other controversial questions including Ukrainian-Polish and Ukrainian-Jewish relations.
It is possible that the far right threats will only serve to make Maya and Her Mummies more popular, as expressions of support have appeared on social media from Deputy Prime Minister Ivanna Klympush-Tsintsidze and other major public figures. In addition, the publishers have made the book freely available to download.
Reporting by Martin Morgan
Use #NewsfromElsewhere to stay up-to-date with our reports via Twitter.